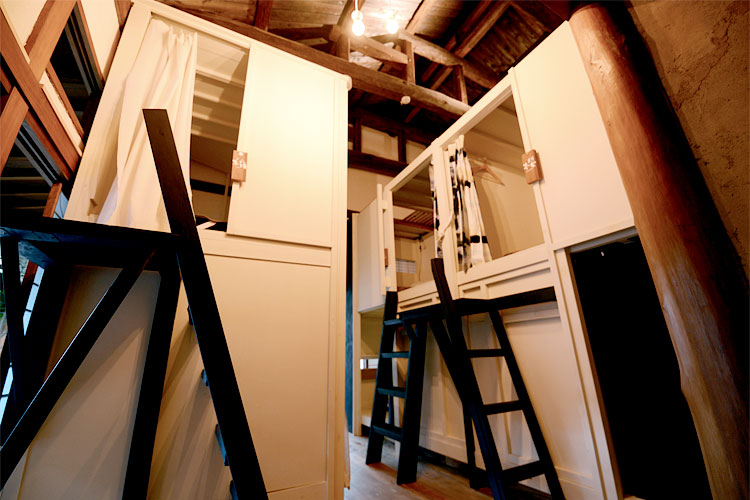 男女混合のお部屋です。プライバシーに配慮したカプセル型のドミトリーです。
大きな梁の見える部屋内には床の間に文机があります。
各ベッドにコンセント、読書灯、ハンガーを用意しています。
| | |
| --- | --- |
| Mixed Dorm | 3,500yen/per person |
Impressive large beam is the symbol for the room. Each bed has its own compartment to ensure privacy with a power outlet, a reading light and a clothes hanger. A small floor desk in the room is for common use.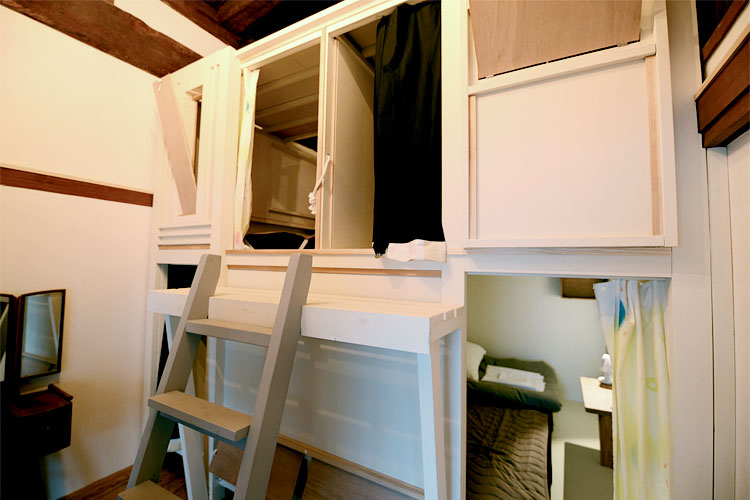 女性専用のお部屋です。大きな荷物も持ち込めるよう、カプセル内のスペースを広くとっています。
各ベッドにコンセント・読書灯・ハンガー・部屋内に三面鏡を用意しています。
| | |
| --- | --- |
| Female Dorm | 3,500yen/per person |
Larger compartment can store bulky travel bags. A power outlet, a reading light and a clothes hanger fitted inside the compartment. There is an antique triple mirror for dressing in the room.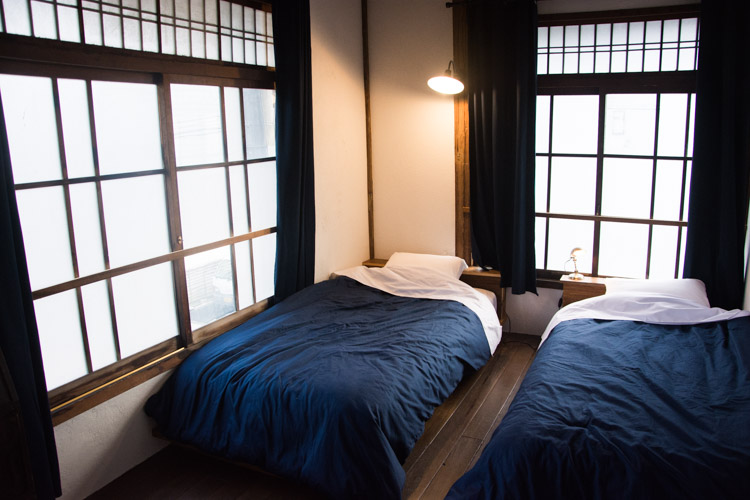 2面を窓に囲まれた光あふれる明るい個室です。ベッドは大工さんの特注で、とても寝心地がよいです。
| | |
| --- | --- |
| Twin room -Hikari- | 9,900yen/per room |
As its name means "light" in Japanese, the room is comfortably bright with windows on two sides of the room. Specially made beds surely make your sleep excellent.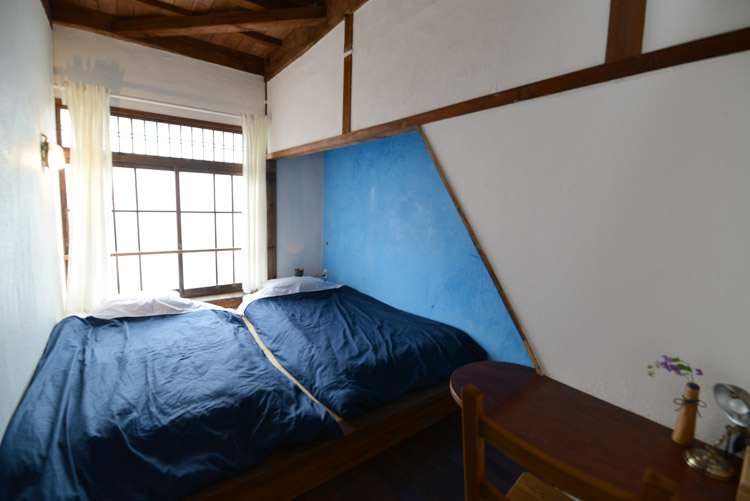 ツインルーム 蒼

9,500円/2名
5,500円/1名
私たちが好きな沖縄の海や空がイメージされた個室です。小上がりタイプでマットレスはシングルが2つです。
Twin room -Ao-

9,500yen/for 2 people
5,500yen/for 1 person
This blue(Ao) featured room is inspire by the blue ocean and sky in Okinawa. Two single-size bed mattresses provided.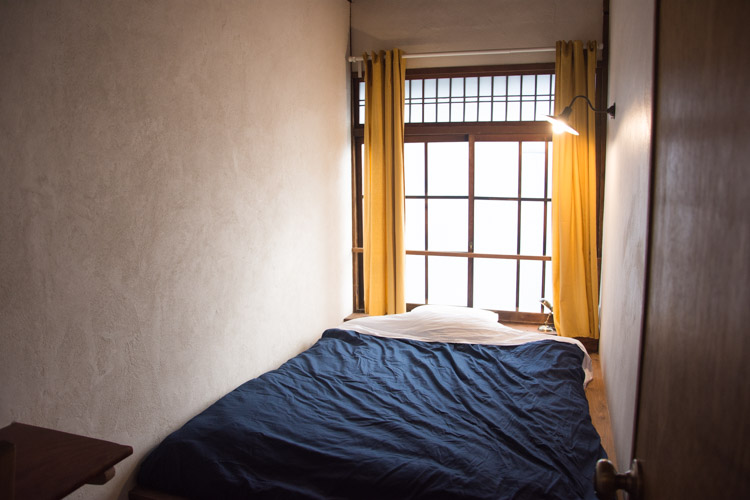 ダブルルーム 星

8,800円/2名
5,000円/1名
美しい竹田の夜空を眺めてもらいたいという思いを込めた個室です。小上がりタイプでマットレスはダブルが1つです。
Double room -Hoshi-

8,800yen/for 2 people
5,000yen/for 1 person
Ideal room for star(Hoshi) gazer. One double-size bed mattress provided.
※全てのお部屋にエアコンを完備しています。
※個室には全てのお部屋に机・椅子・読書灯・ハンガー・姿見・バスタオルを用意しています。受け付け時に鍵をお渡しします。
※古い木造建築のため、構造上音が響きやすいです。ご理解のうえお過ごしいただけたら幸いです。
– Each room has an air-conditioner.
– A desk, a chair, a reading light, a clothes hanger, a mirror and bathing towels provided for private rooms. Room key for a private room given at check-in.
– Rooms are NOT sound proof as this house is almost a century old. We appreciate your caring for your neighbors during the night and the early morning.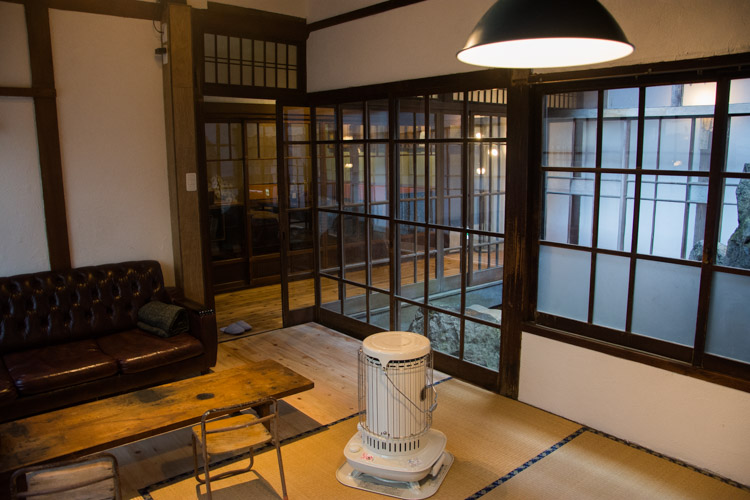 リビングスペース -Living-
宿泊者専用のリビングです。
Living room on the ground floor is exclusive for guests. Make yourself comfortable, make friends with other guests here. Don't miss a lovely Japanese-style patio.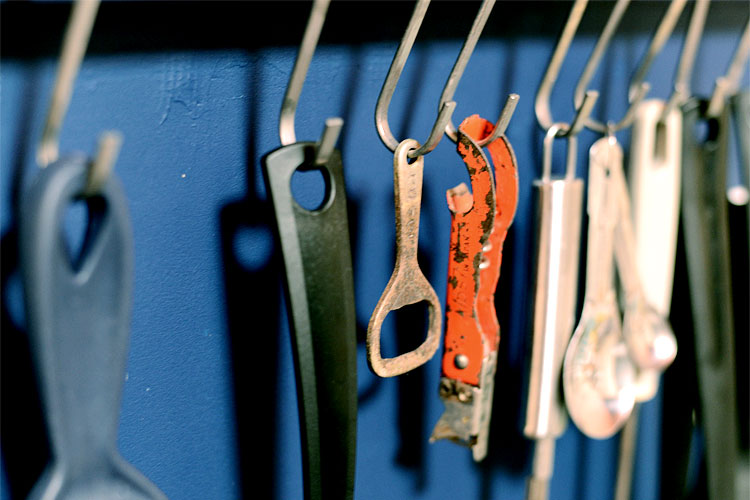 キッチン -Kitchen-
調理器具や調味料をそろえています。
Pans, cutlery, seasonings and a refrigerator are at your service!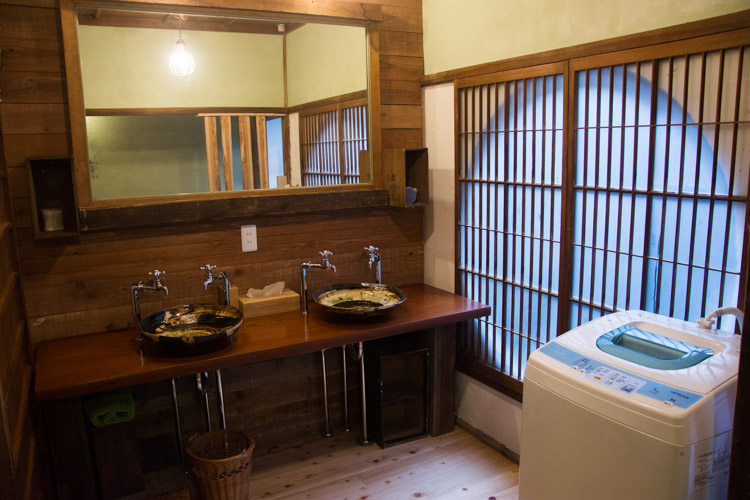 洗面所 -Wash room-
大きな鏡が特徴の洗面所です。
A large dressing mirror fitted and a washing machine is available.
ご朝食をご希望のお客様には、お一人様550円で8時~9時の間にご提供しています。ご希望をチェックイン時にお伺いいたします。

シャワールーム(16:00 – 翌10:00)を1つあります。徒歩圏内の温泉もおすすめです。1回350円でご利用いただけるチケットを販売しています。竹田温泉花水月 11:00 – 22:00(木曜休)
個室はベッドメイク済です。ドミトリーはお客様ご自身でベッドメイクをお願いします。
タオル、寝巻、歯ブラシ、洗面道具はご持参ください。バスタオルのレンタル、歯ブラシと耳栓の販売はそれぞれ100円です。
駐車場はございません。お車でお越しの場合、豊後竹田駅の有料駐車場のご利用をお願いいたします。(一日最大300円)
We serve breakfast between 8:00 and 9:00 at 550 yen upon your request. Please tell us your preference at your check-in.
A shower booth can be used from 16: 00 to 10: 00. Taking Onsen is an excellent choice while your stay with Cue as the Onsen (Hanamizuki) is only a few minutes' walk from Cue. Hanamizuki opens everyday from 11: 00 to 22: 00 except Thursdays. Ticket sold at the reception for 350 yen.
Smoking is NOT allowed throughout the hostel.
Beds in the private rooms are already made by the time of your check-in. Dormitory room guests are requested to make own beds.
Towels, pajamas, toothbrush and other toiletries are not provided in the room.
A rental towel is available at 100 yen. Disposable toothbrush and earplugs are purchasable at 100 yen each.
No car parking space available. The nearest car park is at the station. 300 yen for a day.
Free wi-fi available for guests.
No curfew but lights off at 23:00.